Looking Back at 2019: Busy Year at Whitehall Schools
It was a busy year in 2019 for the Whitehall Schools.
In April, the school board voted 6-0 in favor of hiring current high school principal Hannah Nieskens as the new Superintendent. She took over for John Sullivan who resigned at the end of the summer. Nieskens had served as principal of the high school since the 2015-16 school year and has been named Montana High School Principal of the Year and was one of three finalists for the National High School Principal of the Year.
In May, the Whitehall School Board of Trustees voted May 8 to hire Melissa Robbins as the high school principal. She had been employed as a counselor for the district. A total of 12 applicants applied for the principal position and three interviewed with a committee consisting of administration, teachers, and board members.
32 Whitehall High School students graduated at a May ceremony. Maggie Whitehurst was the valedictorian and Max Feight was the salutatorian. Members of the Class of 2019 were Klancy Armstrong, Jimmy Best, Hannah Bieber, Cade Briggs, Seth Carr, Lilly Center, Isabeau Coleman, Max Feight, Ethan Flood, Erik Frey, Spencer Haberman, Danielle Hays, Steven Japhet, Connor Johnson, Sierra Kaeding, Sawyer Keener, Nathan Kuehl, Olivia LaFountaine, Dawson Lanes, Tyler Lucas, Rebecca Meyer, Bradley Morrison, Clinton Parks, Wyatt Powers, Eli Reynolds, Shawn Russell, Allee Scafani, Bryan Senst, Colby Smith, Karlie Wagner, Maggie Whitehurst and Clay Wolfe.
Five Whitehall High School students earned Superior Ratings in May at the State Music Festival in Helena.
Whitehall Musical Director Janet Heilig said the kids did well at state music and were able to perform in front of several college professors and respected music teachers. Maggie Whitehurst (vocal solo), Anna Nelson (clarinet solo), Seth Carr (vocal solo), Ashlynn Ellison (flute solo) and Austin Schwab (tuba solo) all received the prestigious rating.
It was a year of change for the Whitehall Town Council. The Whitehall Town Council welcomed two new members in May. Katy James was sworn in as the new council member for Ward 2. She replaced Barb Gagnon who resigned from her position. Roy McBride was appointed the new council member in Ward 3. He replaced Montina Rawson who moved out of town limits. Their terms expired at the end of the year.
Shawn Hoagland was appointed in June to fill the position of council member Jason Good. Hoagland started with the position July 8 and his term ran till the end of the year.
It was also a year of change at the Golden Sunlight Mine.
Longtime General Manager Dan Banghart retired at the end of October. Former Environmental Superintendent Chuck Buus was named the new general manager.
Despite a reduction in force and closure of the mill in late September, there was still positive news for the future of the mine. At a Community Transition Advisory Committee Meeting in September, Steve Lloyd said the TSF 1 and 2 Tailing Projects are gaining lots of traction, adding they will be meeting soon with Barrick officials to get a yes or no answer on moving forward.
According to Lloyd, the TSF 1 project could produce more than 200,000 ounces in 12 years and both projects could last between 30 and 32 years.
In late September, Banghart reported Barrick Gold recently approved the mine advancing the project with detailed engineering and preparing for a permit application. He added that engineering will take around six months.
Whitehall resident Francis "Topper" Giono was honored in May for his longtime care and dedication as an Emergency Medical Services provider. Giono received the Volunteer EMS Provider of the year award. This award honors a volunteer EMS provider who is exemplary in his/her quality of patient care and dedication to their community.
Giono has been an EMS volunteer provider in the Whitehall community since 1969 after attending his first EMT class. Whether serving as an ambulance attendant, town marshal, or county deputy, Giono has been on countless 9-1-1 calls during the last 50 years of his service.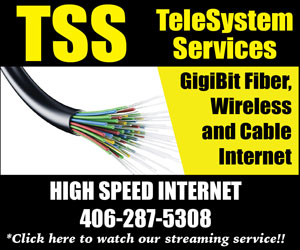 The 35th annual Montana Mule Days took place in Whitehall in June. The three-day event hosted 132 classes in 2019.
Work was completed this summer on the Whitehall South Roadway Improvements project which began in 2018 with the goal to decrease the potential for crashes on MT 55. Safety improvements engineered to decrease crashes on MT 55 include roadway widening which will improve maneuverability for motorists and increase safety for cyclists and shoulder users; • new alignment which will create safer angles and improve line-of-sight, centerline and shoulder rumble strips which alert drivers who are leaving the roadway or crossing the center line and updated roadway surfaces. In addition, an updated bridge at Pipestone Creek was installed last year.
Steve Andersen was sworn in as the new Jefferson County Justice of the Peace in 2019. According to County Clerk and Recorder Bonnie Ramey, Andersen was appointed by the Jefferson County Commissioners at their August 20 meeting. He was one of five candidates who filed to fill the seat of Dean Hildebrand who resigned during the summer. He was sworn in Wednesday, August 21.
A resident of Montana City, Andersen was defeated by Hildebrand in the 2018 general election by a vote of 3,027 to 2,702.
Andersen will serve in the position until the next general election scheduled for November 3, 2020.
The McClusky Fire near Whitehall reached nearly 3,000 acres. The lightning caused McClusky fire, located three miles northeast of Delmoe Lake and 13 miles northwest of Whitehall was reported on August 16.
A new project in downtown Whitehall started in 2019 will be a boon to the community.
Anyone who has recently visited downtown Whitehall is sure to have noticed construction underway at the corner of Legion and Main.
In information provided to the Ledger by Bill and Tamara Pullman, they discussed the "Main Green" project.
The Pullman family said they want to thank all those who have expressed support for the project to make the corner of Legion and Main into a green space.
"A group of us who have worked together before are taking these next months to get the fundamental plantings in the ground and seeding in place for grass next spring. By next year we hope the Town Council will help us in sustaining the future care for "Main Green". By that time, we will be looking to collaborate with groups that might want to use and/or contribute to the betterment of the Green. We are glad to join in with those that always do what they can to make our kids and our visitors glad they are in Whitehall," said Bill and Tamara Pullman.
Donald Trump Jr. made a surprise visit to Whitehall in November.
He stopped at Whitehall Truck and Towing after seeing large flags displayed at the business.
Brunet was busy working when Donald Trump Jr. and Fox News Analyst Kimberly Guilfoyle walked into the business. According to Brunet at first, he thought they were just customers who needed some assistance, but he quickly realized who had walked into the business.
"After seeing the flags, he just wanted to come to meet me. What are the chances of this, one in a million?" Brunet said.
There were a record number of teams in January at the 17th annual Cori Bishop, Dave McLaughlin, Steve Dyson Memorial Pool Tournament in Whitehall. The annual event was hosted by the Whitehall Pool League and featured 15 local teams.
Leslie Dyson said the event was based at the Whitehall Community Center where six pool tables were set up. She added hundreds of games of pool were played there, as well as the Mint Bar, K Bar and Grill, and The Two Bit.